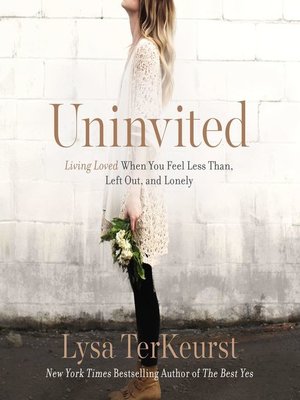 Nonfiction/Christian
Copyright: 2016
I realize that I say I don't read nonfiction and here I'm posting a review to another nonfiction book. It's not that I don't read nonfiction. I'm very, very, VERY picky about the nonfiction I read. In both said cases of nonfiction reviews, the books sort of fell into my hands. I work at a library and these things happen quite often. I read the backs and inside covers of most books that I handle.
Uninvited is a taking-apart of rejection and loneliness while undermining those feelings with verses straight from the bible. While I enjoyed the content, what struck me about this book first was the voice. TerKeurst had a fantastic and relatable voice; she's funny, awkward, and dorky. She reminds me of me.
From a writer's standpoint, her take on rejection felt like vindication. It was proof that I'm not insane to feel awful and worthless each time I get a rejection from an agent or a not-so-tactful review or feedback. I am not alone. Everyone feels rejection and it is perfectly normal. We aren't worthless, the bible says so, and TerKeurst provides verses and her own thoughts on the verses without sounding like one of those old-timey fire-and-brimstone preachers. She is a normal human being, not some holier-than-thou church lady reading to throw scornful looks and shame at anyone that gets tripped up by worldly problems.
If you're Christian, a writer, and struggling with depression and rejection, pick this book up. I've been told that God works in mysterious (sometimes obvious) ways, and this book happened to hit my hands at just the right time. If you didn't know, I struggle with depression, and rejection doesn't help. That not-good-enough feeling can sneak attack me and I'm down for the week. Maybe this book review will hit you at just the right time. Who's to know?
I gave Uninvited a 5/5. TerKeurst's relatable voice drew me in. What she had to say about rejection and God's grace kept me reading. The book flowed from one point to another without hiccuping or jerking back and forth. It's a great pick-me-up and well worth the read.