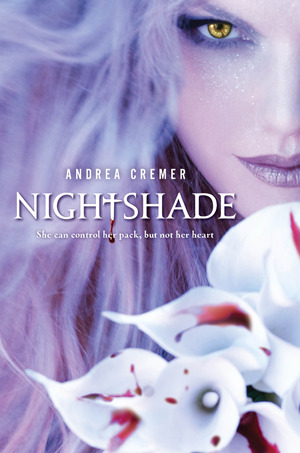 YA Fiction, Fantasy
I picked up this book because I loved Cremer's The Inventor's Secret series. Nightshade felt like it was written by a different author – it's so different from The Inventor's Secret. The sentence structure, the scene structure – everything was different, and in my opinion, worse.
I read a little more than a third of this book, sat it down, then picked it back up a week later – I had absolutely no idea what was going on. I had to backtrack and skim the last few chapters to remember.
Nightshade did three things that I hate about YA fantasy fiction: 1) the supernatural teens go to high school premise, 2) too many characters too soon that I couldn't keep straight, and the worst of all 3) the main character's insta-love triangle between two super hot guys, one of which she's destined to marry, the other of which smells like pine. sticks finger down throat
I'm not even going to start on the sexist-ness in this books. (Calla was presented as a strong female lead, but then the book counters that with how she has to listen to her male partner, because he's a man. He can have all the sex he wants, but she MUST be pure. Sticks finger further down throat) It's not that the sexist nature was there, but that it was so utterly present in every single scene. Oppressively so.
After The Inventor's Secret, I had such high hopes of this series, but I couldn't make it through. I tried, but I have too many other books waiting to be read to force myself through this one. The plot is alright, and I do like that Cremer did her own thing with the werewolf/witch thing – I liked that part. It was the too-long scenes between side characters, the dialog that didn't progress the story, and the gag-worthy teen angst-romance that ruined it.
So, for all of the reasons above, I DNF Nightshade, and I will not be picking the rest of the series up.