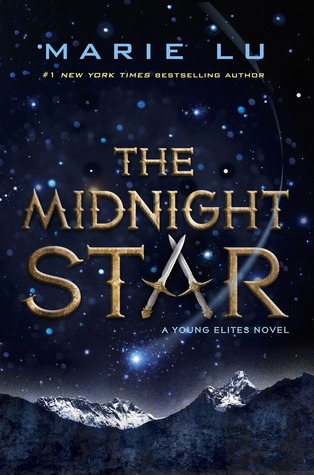 Ya Fiction, Fantasy
There was once a time when darkness shrouded the world, and the darkness had a queen.
Adelina Amouteru is done suffering. She's turned her back on those who have betrayed her and achieved the ultimate revenge: victory. Her reign as the White Wolf has been a triumphant one, but with each conquest her cruelty only grows. The darkness within her has begun to spiral out of control, threatening to destroy all she's gained.
When a new danger appears, Adelina's forced to revisit old wounds, putting not only herself at risk, but every Elite. In order to preserve her empire, Adelina and her Roses must join the Daggers on a perilous quest—though this uneasy alliance may prove to be the real danger. 
I am not okay.
The ending to his series was bittersweet, and it left a hole the size of the moon in my chest. I love it, but I hate it.
This book in comparison to the other two feel slower. Less action. More emotion-driven story. More wandering. It wasn't bad. I thoroughly enjoyed The Midnight Star, just not as much as The Rose Society, or The Young Elites. Personally, the build-up didn't quite live up to the ending. It was a good ending, and I hate/love it.
As a reader, I hate it because it wasn't happy-happy. I hated that not everyone was happy in the end, that most characters lost something, that it ended in a somber post-grief haze. As a writer, I totally get it. It fit the story. The ending fit with the Adelina's character development.
Spoilers! (In white.)
 The build-up ends with Adelina taking her sister's place in the Underworld, saving her sister and sacrificing herself. This is the pinnacle of her development. She's done so much in the name of herself, for selfishness, so the sake of revenge and vengeance. Then, she chooses good to save her sister – the one person who has been a constant in her life. A lifeline.
It's bittersweet, because Violetta then takes over the empire that Adelina conquered. Enzo returns to the Underworld where he should be, to be with the girl he fell in love with, the girl he saw in Adelina. The powers are diminished and balance is returned to the world. 
I hate it because Adelina chooses her already-dead sister over the man she's fallen in love with, Magiano. I get it, the whole "sisters forever" thing, but it still left a hole in my heart. 
It is a bittersweet ending, because there's a "epilogue" type thing in the back that suggests that Magiano and Adelina reunite and ride off into the night together, which softens the blow – but… AH. I need the love interests to end up together. For the sake of my pale, fragile mind. 
There is so much heartbreak and emotional-ripping in this series, I love it, but I hate it. I love that it puts me through so much in so little time, but I hate it because now – after I've finished it – I am an emotional wreck.
Overall, I give The Midnight Star by Marie Lu a 4 out of 5. Though I loved it, there were just little things plot-wise that I wish were more in-depth. It happened so quick, the lore and the world were brushed over in places. These books could have been longer and more deeply written. These books could have easily been written within the "epic" scope.