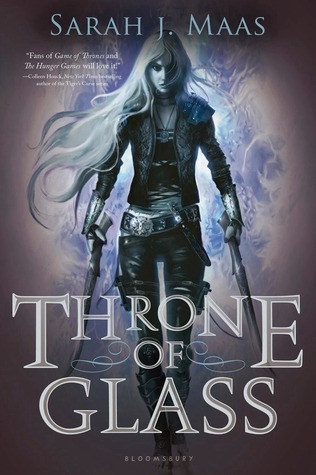 YA Fantasy, Epic Fantasy
In a land without magic, where the king rules with an iron hand, an assassin is summoned to the castle. She comes not to kill the king, but to win her freedom. If she defeats twenty-three killers, thieves, and warriors in a competition, she is released from prison to serve as the king's champion. Her name is Celaena Sardothien. 
The Crown Prince will provoke her. The Captain of the Guard will protect her. But something evil dwells in the castle of glass–and it's there to kill. When her competitors start dying one by one, Celaena's fight for freedom becomes a fight for survival, and a desperate quest to root out the evil before it destroys her world.
I read this book last year, but I'm revisiting it. Why? Because I loved this book enough that it inspired my to write my own epic fantasy. This book series reminded me why I love fantasy – the magic, the assassins, the royalty – squeal!
For those of you who missed that post – I read Throne of Glass in three days, was too impatient to wait to go back to the library for book 2 (Crown of Midnight), so I bought the ebook and read the second book in two days. I devoured this series too fast to take it in properly.
So I'm revisiting.
On my second read of this novel, I saw things that I didn't the first time – obvious foreshadowing that Celaena isn't who she says she is, the odd number of exclamation points, and all the narration. There was a LOT of narration that I – as a writer – would have edited it out as unnecessary information and cheap FYI for the reader.
Maas definitely grew as a writer. Throne of Glass book didn't feel as put-together as the others later in the series, or as her Court series. The scenes in the first half of Throne of Glass felt disjointed, a bit thrown-together, and more centered around her relationships with Dorian and Chaol than about becoming champion.
It felt… like something someone new to writing would write. It had that sense of "new writer" to it, that "fan fiction" feel where the writer is meandering to gain on the word count. I can't explain it better than that. I've been sitting here for twenty minutes trying to. Maas explained (either in the book somewhere, like the back cover, I don't remember) that she published a first draft of this novel on Fiction Press when she was 16 – and even this finished draft has that sort of feel to it.
Don't get me wrong – I LOVE this book and this series. On this revisit, some of the awe has worn off, though, and I can see it through a writer's point of view rather than a fan girl's point of view. I originally gave it a 5 out of 5, but rereading it, I think it is more of a 4 out of 5.
While I LOVE Throne of Glass, this first book lacked that polish, cohesion, and seamlessness that I crave in a 5-star.