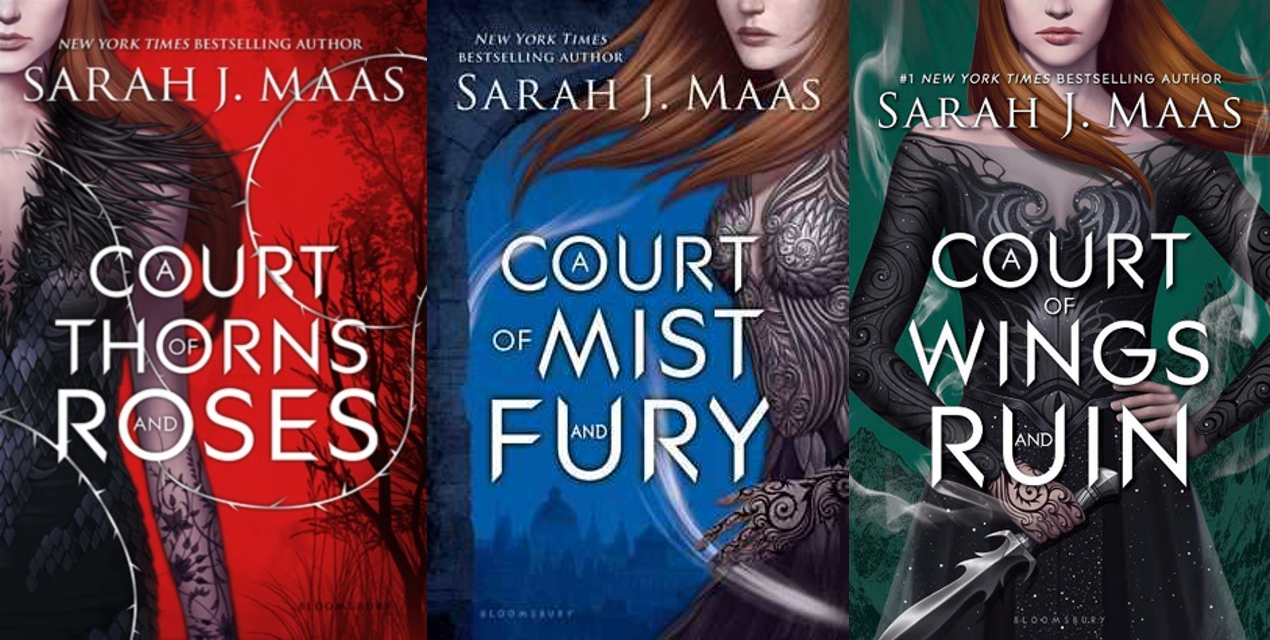 Genre: YA Fantasy (Let's be real, It's NA. The protagonist is 19 and it's about her finding her way through the world of adults with soft-erotica moments.)
Copyright: 2015, 2016, 2017
Yeah, so, while waiting for Maas's Tower of Dawn (Throne of Glass series) to arrive via inter-library loan, I decided to give her other series a shot. And, as you can see from all three pictures, I read all of them available. 
Now, this series isn't for everyone. If you loved the romance angle of the Throne of Glass books, check out the Court series. If you hated the romance angle, stay away from the Court series. 
With that said, before reading these three books (more are promised in 2018), I would have said that I didn't like a book with romance as the main theme. And once again, I am proven wrong. While the first book (Thorns and Roses) got a 4/5 from me on Goodreads, I gave book 2 (Misty and Fury) a solid 5/5. I couldn't stop reading it; the romance angle was supplemented with enough drama and fantasy elements and world building and everything else that's awesome. Wings and Ruin didn't quite live up to the I-have-to-read-right-now urgency of Mist and Fury, but I HAD to know what happened. 
Now, granted, the ending felt a bit… lackluster. And fast. There was all this leading up to a grand ending and then… boom it's over. 
Don't get me wrong, I liked it, but I didn't have that sense of fulfillment that I crave from endings. It felt too sweet, too nicely wrapped up. 
(Spoilers Below – I put them in a super light color so you won't accidentally spoiler yourself. Simply highlight the text to read.)
The dad's sudden appearance at the end bugged me. We meet him in the beginning of the first book as this weepy little broken man who has given up on life because his fortune was taken away and he basically left his teenage daughters to fend for themselves. Then once he has his money back, he decides to play the hero and go abroad to find armies to fight a threat he knew about in book 2? While leaving his daughters at home? Then he magically makes a super dramatic entrance at the very last moment with his awesome army, the lost queen, and becomes the glorified Father? No. All that did was nullify Lucien's quest, and I love Lucien as a character. I wanted him to DO something for a change, instead of playing side-kick. 
I hated Nesta at the beginning, but I fell in love with her by the end. She's still a total bitch, and I'd like to see some more character development from her in the future books in this series.
I'm not a huge fan of the teen trope of "everybody's got to be in a couple." It just reiterates all the social pressure of being in a relationship. That's one reason I love Morrigan – she's a total badass that doesn't need romance to get by. I also like that she is main character, beautiful, smart, feminine, and fierce. Spoiler – she's into girls. She smashes the lesbian stereotype into bits while looking wicked good doing it.
I'm going to fan girl here for a bit – I am so glad Maas introduced Rhysand in book 1. In Throne of Glass, there were too many love interests. I think I would have liked Rowan more if he'd been introduced sooner, rather than after I'd already fallen in love with Chaol. 
So, all that that said and whited-out, I give these three books a 6/5. Yeah, I broke the rules of math because I loved this series that much. It keep me reading; it poked my heart without ripping it out of my chest. While it did sometimes read a bit slow and heavy with the exposition, Maas waited until I was into the story and the characters to layer it on – a smart move on her part. And hey, it's fantasy. 
Maas's world-building is fantastic. The characters are amazing and even side characters get depth and development. The dialog is well-done. Every scene propels the story forward while at the same time giving us relationship hints between characters, building bonds, and doing a whole bunch of other things.
I love this series. I will now read everything that Maas writes. I'll probably pre-order them – and I've only ever pre-ordered one book in my life: the last Harry Potter book.