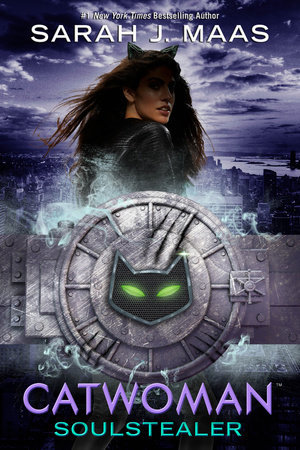 When the Bat's away, the Cat will play. It's time to see how many lives this cat really has. . . .
Two years after escaping Gotham City's slums, Selina Kyle returns as the mysterious and wealthy Holly Vanderhees. She quickly discovers that with Batman off on a vital mission, Batwing is left to hold back the tide of notorious criminals. Gotham City is ripe for the taking.
Meanwhile, Luke Fox wants to prove he has what it takes to help people in his role as Batwing. He targets a new thief on the prowl who seems cleverer than most. She has teamed up with Poison Ivy and Harley Quinn, and together they are wreaking havoc. This Catwoman may be Batwing's undoing.
I'm a fan of Sarah J. Maas. She has a clear writing style and a remarkable ability to paint a scene and setup characters that are both beautiful and complex. Catwoman did not disappoint.
Now, this book is in the DC Icons series, and I didn't like the Batman: Nightwalkers edition. (That book was by Marie Lu). But oh my heart, did this book deliver. I half-expected chapter-long smut and overly dramatic female characters, but this book didn't have either of those! I know, shocker.
Catwoman was complex, mysterious, glamorous, and smart – not to mention badass. Her story was thrilling, enticing to the last page, and even took me a bit by surprise. (In a very good way!)
Selina is recruited into the League of Assassins and comes back to Gotham City with her new training to raise some hell, and boy does she ever. With the help from Poison Ivy and Harley Quinn, this story has all the fun of a girls-only club. I loved that all three were included and given complex characterizations.
And then there is Luke Fox (son of Lucius Fox and latest addition to the Bat-Team as Batwing.) I wasn't sold on this character at first. I didn't see why it couldn't have been Batman instead of another bat-themed crime fighter. But, Luke grew on me. He is a veteran with PTSD, and fighting crime helps him deal with it.
I read this book in about three days. It held on and didn't let go. It's a 10/10 on the readability scale. There wasn't a single point in the book where I found myself asking, "What's the point? How much longer does this scene have? Is this scene ever going to end?" Nope. This book had such a marvelous flow to it that I was startled to find myself so close to the end. And, as a must for any 5-star review, this book kept me reading into the night. I lost track of time.
So, overall, Catwoman Soulstealer gets a 5 out of 5 from me, because it's a damn good book. Another smash by Sarah J. Maas!