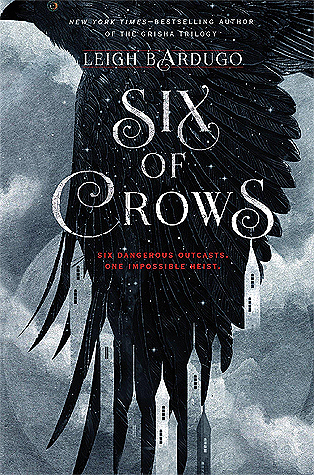 Ketterdam: a bustling hub of international trade where anything can be had for the right price–and no one knows that better than criminal prodigy Kaz Brekker. Kaz is offered a chance at a deadly heist that could make him rich beyond his wildest dreams. But he can't pull it off alone…
A convict with a thirst for revenge.
A sharpshooter who can't walk away from a wager.
A runaway with a privileged past.
A spy known as the Wraith.
A Heartrender using her magic to survive the slums.
A thief with a gift for unlikely escapes.
Six dangerous outcasts. One impossible heist. Kaz's crew is the only thing that might stand between the world and destruction—if they don't kill each other first.
This book was AMAZING!
The characters, the world building, the plot – everything was so well-done, well-written, and page-turning that I couldn't stop reading.
Whoa, okay, let's slow down.
The characters in Six of Crows are all outcasts. They're liars, thieves, and murderers. They belong in jail. But they are so likable it hurts. I love how Bardugo layered the characters, the plot, and their separate backstories. I cared about every one of them. A lot of times when there are multiple POVs, I dislike a few of the characters, or I find that most of the POVs are unnecessary. But I found myself liking every one of them.
Even through the different POVs, the story kept moving. There was never a moment when I wanted the story to hurry up. Every scene, every moment of action, every bit of narration, every line of dialog felt like it belonged. This book never slowed.
And the world building, oh my heart the world building! This world felt like a Victorian crime slum, filled with Oliver Twist-styled thugs and pickpockets. It had all the gothic romance a girl could need. The world came alive – it was immersive. I felt like I was there, in the story, watching it all unfold around me.
And the plot. I'm a sucker for a heist story, but there was so much more than a heist. Yes, the heist was the backbone, but the characters made up everything else, the complications, the struggles; their choices drove the story forward. The plot twisted and turned and kept me guessing, kept me wondering "How are they going to get out?" And Kaz, oh, he's my new fiction crush. I love his cold character, the miserable backstory, and the drive for revenge, and that madman-level of creative plotting. (If Batman and the Joker were fused together – it would be Kaz.)
I don't have anything bad to say about this book. I don't have a single sliver of something to pick at, to expose, to poke; in my eyes, this book has no flaws. (Yeah.)
If you are a fantasy reader, this is a must for your list. If you haven't read this yet, what are you waiting for?
I know I didn't like the Grisha trilogy nearly as much. They're set in the same world, but this book read so much better. The writing is deeper; the characters are smarter; the plot is thicker – the writing itself is more intelligent.
Six of Crows gets a 5 out of 5 from me, because it did everything right.